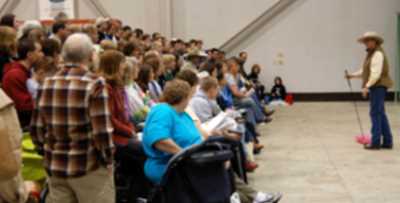 HORSE FAIRS AND EXPOS
It's been a great experience to present the concepts of Horsemanship for Women at the many Horse Fairs and Expos this year. From the Rocky Mountain Horse Expos to the Hoosier Horse Fair, audiences have been terrific and the message of "Horsemanship for Women" has been well received. People have returned to see multiple demos over the weekend!
I have fun asking audiences to "Raise your hand if the person here with you made you come watch this demo." As you can imagine, lots of the men have to uncross their arms to raise their hands! As the demo progresses and I poke far more fun at us women than men, and everyone gets into the humor of our natural tendencies and how they apply to horses.
Women tell me how much they appreciate seeing someone without the physical strength of a man deal with difficult horses, laugh at the horse's antics of resistance, and turn things around so that the horse wants to do what they are asking. Because women can't rely on their physical strength the way men do, I show how women can use their "natural power of influence" to become more effective with horses.
If you're not familiar with Horse Expos, they are one of the greatest educational values in the industry. Some have hundreds of vendors with every kind of product and service you can imagine, and a lineup of quality educators all gathered in one place. Where else can you access horse professionals in areas such as health, nutrition, behavior, feet, trailers, breeds, sports and more?
If there is a Horse Fair coming to your area and I'm not already a scheduled presenter, give them a call and make a request!