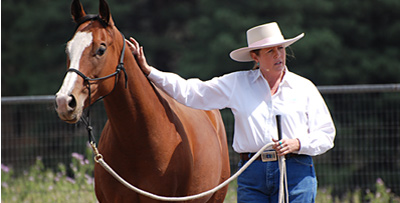 KAREN SCHOLL HORSEMANSHIP FOR WOMEN™
There's no better feeling than when a horse leaves its food or herdmates just to come over to be with you. This is the ultimate reward for our extensive efforts of time, money and emotion that go into the care for these very special animals in our life.
My name is Karen Scholl, and my greatest desire is for people to experience that very special feeling when a horse loves you as much as you love them. I teach people a "way to be" with horses that will impress the most important critic at the barn…your horse!
Most challenges with horses result from a lack of knowledge. Even our fear is a survival mechanism telling us we need more knowledge, but where do we get it?!
Maybe you've had great examples of horsemen to learn from…and maybe you haven't. Maybe you've known horsemen with infinite patience with horses and people... and maybe you haven't. Maybe you've poured through books and videos, but nothing looks the same when you get out to your horse.
Now there is an approach that teaches women how loving leadership builds confidence and gains the trust of the horse, regardless of the situation.
Karen Scholl Horsemanship for Women™ is a program that examines the natural behavior patterns of women, men, horses, dogs and kids in a way that's fun, informative, and most importantly empowers women to make the adjustments in their behavior to create change in their life.
When you can get a horse to really think you're terrific, I guarantee your family and friends (even the dog) will notice!