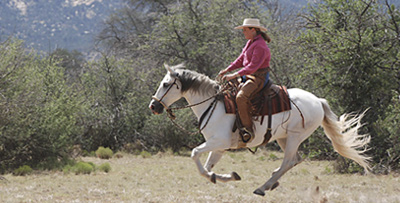 KAREN
SCHOLL
Were you born with the "horse-gene", unable to deny your love for horses at an early age? Did you grow up begging for a horse with model horses placed on every open surface and horse posters wall-papering your bedroom? Did you drive your Mom crazy because you kept wearing out the knees in your pajamas running around the house on all fours like a horse?
Karen was this horse-crazy kid, and even though she begged every birthday and Christmas, Karen didn't own her first horse until well into her twenties! Like many people buying their first horse, Karen's dream was soon shattered when, unlike the rented or ranch horses she'd ridden, her horse would sometimes become difficult to control, spooking, balking or even bolting! The horse didn't do this with other people or in controlled conditions, so asking advice from other horse owners and taking riding lessons helped, but trail riding alone still remained challenging.

Changing to larger bits and a tie-down (to prevent the horse from throwing her head into Karen's face again) gave Karen a sense of more control until the day her horse bolted towards home with its chin tucked to the neck and running right towards a busy road. In total survival mode, Karen fortunately thought to pull one rein harder and keep turning the horse until it came to a stop. In that moment, with heart still pounding, Karen realized that she either needed to find some other form of education about horses or sadly give up her lifelong dream.
Karen's formal education began by earning degree in Equine Science. She attended extensive symposiums and seminars from equine professionals and clinicians, eventually landing at a seminar with Pat Parelli in 1989. Because his program was designed for self-study, Karen took off with it!
Becoming an instructor in 1995, Karen taught Parelli Natural Horsemanship courses and clinics for over ten years. When Parelli moved his operation to southern Colorado, Karen became President of Parelli Natural Horsemanship, managing a Corporation that doubled in size every year, until resigning in 2001 to regain her focus of teaching horsemanship.

Karen explains, "After all three levels of the Savvy System were established and key corporate objectives were met, I realized that my dream of teaching was not being realized. Most people know the feeling of craving more time with horses, and though the daily connection with Pat and Linda Parelli was an invaluable experience, I kept longing to get back to helping people realize their dream with horses and sharing with others what's been shared with me."

In 2002, Karen made the decision to teach independently, developing her perspective on Horsemanship for Women. "Going through the learning process myself, starting with literally knowing only that I love horses, I have had the experience of moving through the mental and physical challenges that many women face." Karen further explains, "Most clinicians are men who have vast amounts of experience riding difficult or young horses. I find that women appreciate learning from someone that can relate to how they feel."

Karen observes, "After more than a decade of teaching, I've noticed that men are more comfortable learning while in motion and have greater physical strength should a situation become difficult, while women prefer more instruction prior to engaging in an activity that may put them physically at risk… especially after having kids!"

Karen certainly does not exclude men, and does not promote a competition between genders. "Horsemanship for Women" is simply delivered in a way that appeals to the unique needs of women and horses.

"It's a wonderful feeling when I see women build their confidence with horses, establishing leadership without guilt and gaining an even deeper bond with this large powerful animal that will give their whole heart to anyone willing to improve their relationship through communication." Karen concludes, "My greatest reward happens at the end of a clinic when I ask what people gained from their weekend and someone says they are no longer afraid of their horse! We all love our horses, and with clear communication, horses can genuinely love us just as much!"